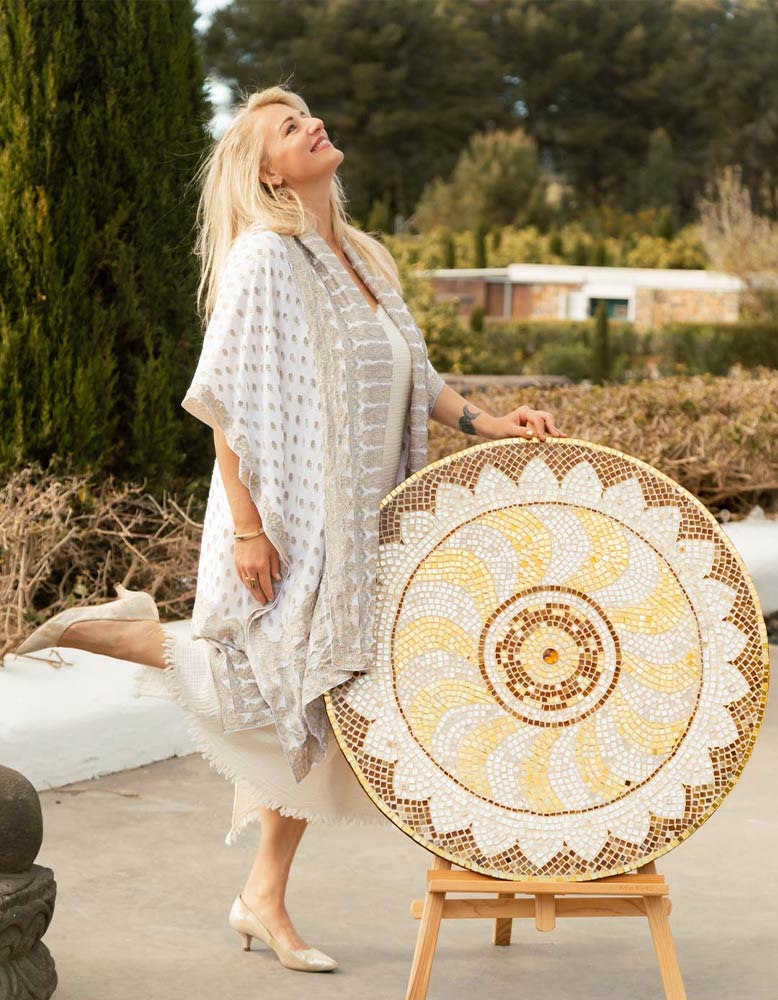 The renaissance of mosaic art.
Mosaic art is one of the oldest art forms in the world. In the 21st century, mosaics are enjoying a renaissance in Europe and adorn restaurants, hotels, bars, lounges, and wellness facilities in particular with their noble, timeless elegance.
Solaris used to work in marketing and graphic design for 20 years and has a sense for high-quality and effective design. Her exhibitions are extremely popular, and her designs can be found in countries such as Madeira, Hawaii, Bali, Thailand, Switzerland, Germany and Ibiza to name a few.
"Mosaic art is my passion. When I close my eyes, I constantly see colors and shapes that I want to manifest immediately as a mosaic. The ideas come from the very bottom of my soul. With the beauty of your bespoke Aurum Mosaic, your inner and outer spaces begin to radiate and to shine. I don´t follow trends, I create them." – Solaris.
explore more
Aurum Mosaic
selected artwork
Aurum Mosaics are unique and much more than just contemporary art.
These mosaics brighten up you interior and exterior spaces in the most magical way. The mosaics with mirrors reflect a dazzling sparkle in the sunlight in your villa, office, conference room, yacht, or business environment.
Each detail carefully considers our holistic senses to provide balance and harmony of a space. Some of the decors are inspired by nature using unique and natural decorative elements with mixed materials.
Enjoy the completely natural effect of precious stones, mother of pearl, gold, crystals, and other high-quality materials such as fossil. Let yourself be surprised at how powerful a special gemstone will have a positive effect on you in the center of your bespoke mosaic.
read more...
Soul Mosaic
To design your bespoke "Soul Mosaic" Solaris connects with your soul. She dives into your essence and can see colors and materials to make your soul visible.
One of the effects is that this mosaic always brings you into harmony with your soul's purpose when you look at it or during a meditation.
explore more
Subscribe for our newsletter
to stay up to date